DAY TRIP TO AZROU CITY FROM FES :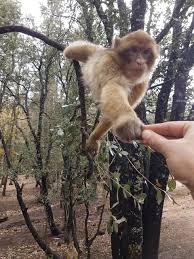 Azrou monkey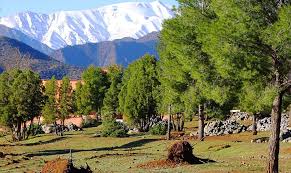 Azrou
our wonderful one day trip, is going to start from the beautiful city of Fes, around middle Atlas mountains region.
At 8:00 am, our departure from Fes, passing by Imouzzar towards the Switzerland of Morocco, the charming city of Ifrane, where you will enjoy breakfast in this refreshing town.
After a quiet stay we will continue towards, the beautiful city of Azrou, containing the largest Cedar forests in Morocco, where you will have the opportunity to see berberic monkeys and, visit a tiny berber village known for its handicrafts cooperation.
Simultaneously, we move on to the spectacular waterfalls of Oum Rabie, crossing the village of Ain Leuh ; at Oum Rabie, you will enjoy a traditional lunch in front of the waterfalls, in a friendly ambiance.
Eventually, when drawing our way back to Fes, we will visit the city of Mrirt and, enjoy the scenic road back to Fes.
Eventually, arriving at Fes, in the evening. Where your wonderful journey with us unfortunately ends at your desired location, either at a Riad, Hotel or at the airport.


THANK YOU FOR VISITING OUR WEBSITE "RURAL TOURS".
Note : Morocco Rural Tours team is always ready to help and make the itineraries that match your needs if you cannot find the one you perfer to do, Also you have to know that the prices depend on how many persons you are, type of accommodations and the date, So please contact us via Email or Phone if you need any help, We are available in all days of the week.